Ένα  μήνυμα της Janet Carlson, εθελόντριας στο Κρατικό Μουσείο Τέχνης της Σάντα Φε (Νέο Μεξικό).
---
11/9/2020
Aristides,
……..
As a docent at the state Museum of Art here in Santa Fe, I belong to a group of docents who meet monthly for various art presentations. With COVID 19, of course, we cannot meet, but we try to help each other out with various projects, presentations, and challenges. One challenge was to describe a piece of art in your own home. I choose to write the following story. I hope you enjoy it.
A favorite piece of art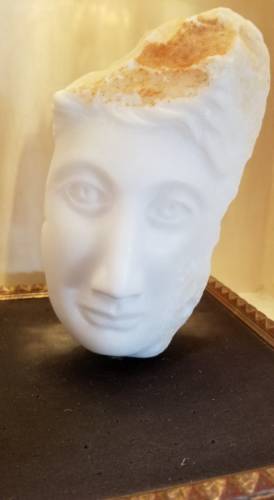 This is a photo of a marble sculpture that, at least for me, brings together ancient and modern themes, beauty,  stories of friendship, and tragedy.
She was sculpted of Parian marble by Aristedes Varrias. Parian marble is admired as a fine-grained semi-translucent pure white and flawless marble quarried on the Greek island of Paros. It is the same marble used by Alexandros of Antioch for his Venus de Milo; it is the marble on the Parthenon; it is Napoleon's Tomb, among many, many famous sculptures and buildings since the sixth century BCE. This face has smooth beautiful features but also the rough marble straight from the quarry. The ancient and the modern.
Aristedes Varrias was born and raised on Chios, educated in the United States (Princeton), and has lived with his Parian-born wife in Paroika for many years, where he was an educator and artist. Aristedes climbs down into the ancient quarry where he gathers leftover chunks of marble to turn into things of beauty. I am happy to say that I have been in those ancient quarries myself, to see the marble and the chisel marks of ancient workmen who laid on their backs to chip away at the stone. Also clearly visible are "Kilroy was here" signs, some modern and at least one dated 1792. I have also seen a half mountain-side of pure marble, sliced by modern machines into a vertical sheet of shiny pure white. Aristedes continues the love of the ancient marble by giving tours to visitors from around the world. We are happy to call him our friend.
The head was created in 2000 to honor a tragic event and the heroes born from it. One night while we were having dinner in Paroika, the port of Paros, the local men  in the restaurant suddenly got up from their tables and disappeared. Word had come that the Samina had crashed in the harbor. The Samina was a ferry that we had often taken on trips from Piraeus (the port of Athens) to Paros or to Crete. It was a rainy, stormy night in the Mediterranean, but that was not the only reason the Samina sank. With 533 people on board, no one was watching the ship. It was on autopilot and the captain and first officer were busy watching football on television. It was an old ship and the port stabilizer failed to work. Things went from bad to worse. Eighty-three people died that night, including the port master who had a heart attack from the stress. Some passengers and local authorities were heroes that night; later five crew members were sent to jail for eight to nineteen years for negligence and manslaughter, including the captain and first officer. Two months after the disaster the executive in charge of the company in Athens committed suicide.
Two days after the tragedy while we walking the town streets, an old friend from Boston greeted us. We did not know he was traveling in Greece so we were surprised to see him. He had been on the last journey of the Samina.
Aristedes sculpted this beautiful but hauntingly sad face. Her name is Martyria, Martyr. Wrapped in an old towel, she boarded a ferry with us, bound to Athens, then home with us.
With warm greetings and affection,
Janet